Witnessing the Love of Christ
The Sisters of Our Lady of Sorrows place themselves in the service of the Church and of the people of God. We are sent in mission by virtue of our consecration. Faithful to our Charism, we live out our missionary zeal as modeled by our Foundress. Following the example of Elisabetta Renzi, who lived and worked solely for the love of God, we carry out our specific mission in the Church with a generous dedication to God alone, animated by a great love of Our Lady of Sorrows, patroness of our institute.
We commit ourselves to value our mission each day and to love it with all our heart. In the enduring presence of Christ and in the love of the souls entrusted to us, we find the source of our spirituality. The spiritual and apostolic characteristic of our congregation is contained in the motto: "Ardere et lucere". As religious, we are contemplatives in action and we burn in order to give light to others.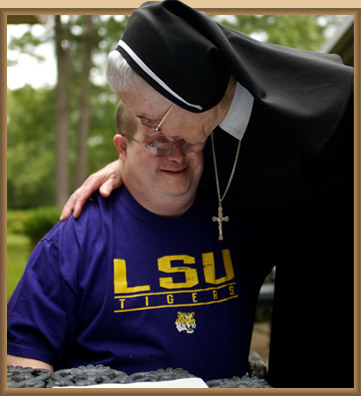 The principal goals of our mission are:
To educate the young to discover God that they may seek a vision of the world in accord with the Gospel.
To help the students entrusted to us to make a more conscious and responsible participation in the Christian, family, social, and professional life.
Commitment to witnessing God's preferential love to our brothers and sisters who have developmental disabilities by
providing them with educational and social skills.
Witnessing Christ to the world through catechesis and
evangelization following the example our Foundress
who tells us that, "there is no vacation from catechisis" our
motto states "to burn and to light."
To promote devotions to Mary, Our Lady of Sorrows, Christ
Crucified, the Eucharist, and the Sacred Heart of Jesus.

The Sisters of Our Lady of Sorrows, a living part of the Church, has received from God, through the Foundress Elisabetta Renzi, the "gift" of witnessing in the world to the enduring presence of the preferential love of Christ for the young, the poor, the weak, and the needy.
Constitutions of the Congregation