Community Life
Christ called each one of us to share a common life and witness to his love together. Our religious community is a both a precious and joyous gift, and foundation of our communion with Christ. Jesus Christ is the center of who we are and he gives us the grace to witness as a family to his love and mercy. The Sisters of Our Lady of Sorrows cherish the gift of living in community, which is an integral part of who we are as consecrated women in the Church. A true family spirit characterizes our commitment and life together.
The life of our community has its roots in its participation in divine life, in the goodness and holiness of God. The Sisters of Our Lady of Sorrows strive to reflect God's life in the Trinity through the daily experience of communion in living, working, and praying together. Mother Elisabetta identified this spirit of the Sisters of Our Lady of Sorrows when she said, "Have only one heart and one soul in God."
Called and drawn to live together by His grace, our community directory states that our life is "animated by the gospel and nourished by prayer and listening to the word. The presence of this communion is seen in generous self-denial, and it is characterized by joy and hope that springs from the fruitfulness of the cross." Our efforts toward living true communal life are motivated by our love for Christ who has called each one of us to follow him in a very radical way.
Following the example of our Mother, Elisabetta Renzi who placed us under the patronage of Mary, Our Lady of Sorrows we share our joys and our sorrows knowing that we are one big family striving for holiness together.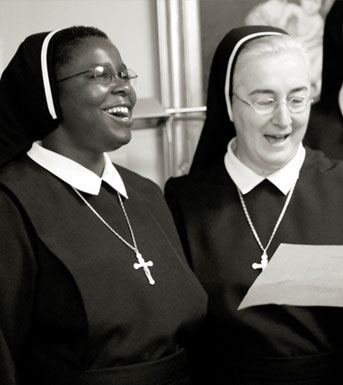 Community life, which is the full realization of the Christian life, is a value in itself and as such should be fostered at all cost. This life should be seen by our brothers and sisters in the Christian community as a model of the complete fulfillment of lifein Christ.
Constitutions of the Congregation